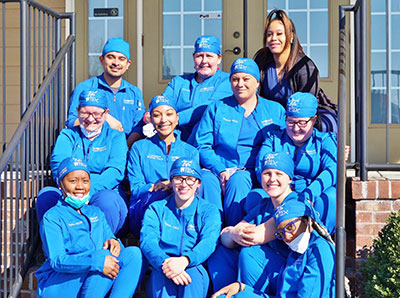 Since opening in Fayetteville North Carolina, we have been asked many questions.  Most of those questions are covered in the Frequently Asked Questions (FAQs) section below.  We have included this feature as an educational tool for our patients.  If your question is not covered or you are unsure of the answer provided, please call 910-354-2680.  There are many mysteries in life; good oral health should not be one of them.
Where are you located?
Our practice is located in Fayetteville North Carolina at 1408 Skibo Road.  Our modern facility is right in front of the Fayetteville Sam's Club on Skibo Road and across the street from the Skibo Road Sonic.  You can access our facility from Skibo Road or from the Sam's Club parking lot.  Click here for map.
What are your normal hours/days of operation?
Due to the COVID-19 pandemic and out of an abundance of care for our staff and patients, Day & Night Family Dental will be open to care for emergency patients only between the hours of 8am – 10pm on Mondays, Tuesdays and Thursdays, and 8am – 5pm Wednesdays, Fridays, Saturdays and Sundays. We will also be temporarily suspending walk-ins until it is safe to do so again. Please see our COVID-19 Statement for more information, as it is updated regularly.
Does Day & Night Family Dental take dental emergencies?
Yes. We take dental emergencies without an appointment.  An example of a dental emergency would be if your tooth is infected and you are in pain we can perform an emergency root canal or extraction to get you out of pain and remedy the infection.  Another example could be an accident where a tooth is broken, chipped or knocked out.  We offer a variety of restorative procedures to fix or replace missing teeth.
What should I do if I have a dental emergency?
Broken Tooth. If you've broken a tooth, gather up the pieces and bring them with you.
Lost Tooth. If you've lost an entire tooth, put the tooth in a glass of milk and bring it with you.  When handling the tooth, avoid touching the root of the tooth or the part of the tooth that was previously inserted into your gum.
Abscess/Infected Tooth.  If you have an abscessed or infected tooth and are in pain, come in right away.  Your tooth should be evaluated by a dental professional.  If left untreated, the infection can cause permanent tooth loss and damage to gum and bone. Untreated, the infection can even spread to other important areas of your body.
Once you are en route to Day & Night Family Dental, call, let us know the nature of your dental emergency (what happened), the time of your dental emergency (when it happened) and your estimated time of arrival – this will give us some time to prepare for your case.
Does Day & Night Family Dental take walk-in patients?
Yes, we take walk-in patients.  Most days, walk-in patients can be worked into our existing schedule.
Does Day & Night Family Dental require an appointment?
No, but having an appointment will help ensure prompt treatment.
I already have a regular dentist, can I make an appointment with Day & Night Family Dental for dental services or be seen if I have a dental emergency?
Absolutely! You and your family are always welcome.  Many of our patients are stationed or live in Fayetteville North Carolina on a temporary basis.  These patients usually have a good relationship with an existing dentist "back home".  For these patients, we can provide for your immediate dental needs.  Whether it is a dental emergency, an 8:00 PM six month cleaning / exam, or a weekend appointment to repair a broken dental crown or lost filling, we will treat and stabilize your dental issue and are happy to communicate and coordinate post visit care with your primary dentist.
Does Day & Night Family Dental take block appointments?
Yes. we take block appointments so you and your family can be seen at the same time or over a short period of time.  Given our large and modern facility and well trained staff, Day & Night Family Dental is well suited for block appointments.
What is a block appointment?
A block appointment is when multiple members of the same group or family are seen and treated at the same time or within a short period of time.  Traditionally, if you have three kids that need to see the dentist, it can mean three separate trips to the dental office.  Translation, lots of missed work for the parent and missed schooling or play time for the kids.  With a block appointment, everyone can be seen at once or within a short period of time.  Coupled with our extended day and weekend hours, seeing the dentist now does not mean missed work, school or family time. Block appointments are ideal for busy families.
Does Day & Night Family Dental accept my insurance, prepaid dental benefit plan or discount dental benefit plan?
We accept almost all of them, including;  Delta Dental, United Healthcare, Aetna, United Concordia, Humana Dental, Metlife, Blue Cross & Blue Shield Of North Carolina, Ameritas, Carrington and Medicaid.   If you have another plan or provider, call us and we can verify coverage in advance of your visit.  Chances are, if you do not currently see your plan listed, you soon will.  We add new dental insurance and prepaid dental plans all the time.
What insurance information do I need to have with me?
The dental insurance / dental benefit card covering the person seeking treatment (some plans issue insurance cards to individual family members, others just issue one card covering the entire family).  You also need to bring a valid photo ID for the person seeking treatment.  If you are the parent or guardian of the person seeking treatment, you will also need to bring your valid photo ID.  Valid Photo ID could include a current state drivers license, state identification card, military ID card or veteran ID card.
What is Day & Night Family Dental's insurance claim process?
We strive to make using your hard earned dental benefits as easy as possible.  The first step in the claim process is to determine your dental insurance or dental benefit provider and your dental benefit plan.  Once your provider and dental benefit plan is determined, we estimate you're out of pocket costs for treatment and collect these funds at the time of treatment.  After treatment is rendered, we submit a claim on your behalf to your dental benefit provider for the balance due on the services you received.  4 – 6 weeks after the claim is submitted, we receive payment from the insurance company.  Often, that is the end of the claim process and you will receive a billing statement from us with a zero balance.  However, there are times when the dental benefit provider declines to pay, does not pay the full amount of the claim or disputes coverage.  When this happens, you are financially responsible for any remaining or outstanding balance on the claim and will be billed for this outstanding amount.
What if I do not have dental insurance?
We welcome self-pay patients.  Self-pay patients are asked to pay at the time of service and can use cash, check, Visa or Mastercard to pay.  For those that qualify, extended payment plans are offered through a third party financing company called CareCredit®.
What dental services does Day & Night Family Dental offer?
Day & Night Family Dental offers most general and cosmetic dental procedures, including:
Dental Crowns
Dental Bridges
Dental Cleanings
Emergency Dental Care
Fixing Broken Teeth
Fixing Missing Teeth
Fixing Knocked Out Teeth
Conventional Full Dentures
Immediate Full Dentures
Partial Dentures
Amalgam Dental Fillings
Composite Dental Fillings
Treating Red, Swollen Gums
Treating Bleeding Gums
Loose Teeth
Separating Teeth
Gum Infections
Gum Abscesses
Tooth Abscess
Tooth Infections
Wisdom Teeth
Impacted Wisdom Teeth
Root Canal
Tooth Whitening
Dental Veneers
Stained Teeth
Discolored Teeth
Cracked Teeth
Chipped Teeth
Crooked Teeth
Misshapen Teeth
Tooth Gaps
Tooth Extractions
What is included in routine cleanings and exams?
For most individuals, check-ups should occur every six months.  The typical check-up includes an exam from one of our friendly dentists as well as a cleaning in which tartar and plaque are removed from teeth above the gum line by one of our expert hygienists.  Additional services could include taking x-ray images of your teeth, a fluoride treatment or the application of a protective sealant.
What type of cavity fillings do you have?
If you have a cavity and are in need of a dental filling, we offer both traditional amalgam (metal) and more modern composite (white / metal free) fillings.
What are the different types of fillings?
There are two types of fillings:  amalgam (metal) and composite (white / metal free).  While both are more than capable of filling cavities and protecting and strengthening your tooth, there are some differences.  The advantages of amalgam fillings are that they are strong and resistant to heaving biting pressure, they cost less than most composite filings and are therefore covered by most dental insurers and dental benefit plans.  Drawbacks to amalgam dental fillings include a possible increase in hot / cold sensitivity at the tooth, the time it takes the material to harden and set (usually a few hours), the preparation area for a amalgam dental filling is sometimes larger – meaning more of the tooth itself is lost, and fewer dentists work with amalgam today as compared to other dental filling material.  The advantages of composite (white / metal free) dental fillings are:  the composite material is white or tooth colored and is therefore less noticeable, composite filling material takes less time to harden and the preparation area for composite dental fillings is smaller – which means less tooth is lost in the preparation process.  Drawbacks to composite dental fillings include:  composite material is not as strong or durable as amalgam, composite material costs more and not covered by all dental insurance or dental plan providers and like your natural teeth – composite material can become stained or discolored.
Does Day & Night Family Dental offer teeth whitening services?
Yes, we offer both take home teeth whitening system and in office teeth whitening system.
The at-home teeth whitening system is a bleaching treatment that can get your smile up to seven shades whiter in 7 – 10 days.  This is a Venus teeth whitening product that consist of a professional fabricated and fitted treatment tray and bleach gel system that are easy for patients to use.  The tray is made from an impression taken during the patient's initial visit.  On a follow-up visit the patient receives the fitted treatment tray and bleaching gel.  This teeth whitening system is used by the patient in the comfort, convenience and privacy of home.
The in-office teeth whitening system consists of a one-hour based whitening treatment delivered in the comfort and convenience of our office.  This teeth whitening system can get your smile up to seven shades whiter in approximately one hour.  The bleaching gel used in this treatment is very strong and can damage the gums if misused.  This teeth whitening service must be done in our practice and under the supervision of our dental professionals.
What are veneers?
Veneers are thin, custom-made caps or covers made out of tooth-colored materials that cover the front of a tooth for cosmetic or structural reasons.   They are very natural looking and are strong and durable.  Veneers are applied to the front side of teeth.  Veneers are a simple and cost effective way to enhance or correct the appearance of your teeth.
What issues can veneers address?
Veneers can be used to address a variety of dental issues, including but not limited to:  teeth with structural defects such as cracks, chips, malformed or crooked teeth, large gaps or spaces between and color defects such as tarnished or discolored teeth.
What are the benefits to taking care of your gums?
Your gums and the bones in your jaw are the foundation of your smile.  Severely diseased gums can cause tooth loss and bone damage.  Additional medical research suggests that diseased gums may play a contributing role in areas of overall health such as heart disease and diabetes.  Make an appointment for a cleaning and comprehensive oral exam with today.  Let our dentists and hygienists determine if you suffer from gum disease and create a treatment plan to help you maintain the full and vibrant smile you deserve.
Do I have gum disease, gingivitis, periodontal disease?  What are the common symptoms?
Gum disease starts as gingivitis and is caused when plaque and tartar get between the tooth and gum line causing swelling and inflammation of the gums.  Early symptoms of gingivitis can include red, swollen, puffy or bleeding gums.  If you notice these symptoms, you might have gingivitis.
Periodontal disease is an advanced form of gum disease.  Symptoms include the gingivitis symptoms listed above and can also include teeth that look longer due to a receding gum line, loose teeth, teeth that appear to be separating, pus around your gum line, sores in your mouth, changes in bite or the fit of your dentures, lingering bad breath / bad taste in your mouth.  If you suspect you have gum disease, make an appointment to be seen today.  Untreated gum disease can lead to severe infections, tooth and bone loss.
How is gum disease treated?
There are a variety of methods used to treat gum disease and even stop and reverse its progress.  In less advanced cases of gum disease a good teeth cleaning and root planing help.  In advanced cases bone / gum tissue grafts, crown lengthening surgery or tissue contouring procedures might be necessary.  The most important treatment step is to start.  Catch gum disease early before it can do permanent damage to your beautiful smile.
Does Day & Night Family Dental perform root canal therapy?
Yes. We perform root canal therapy as well as tooth extractions and other oral surgical procedures.
What is root canal therapy?
Inside of each tooth is a material called pulp.  The pulp provides nourishment and nerve endings to the interior of the tooth.  Pulp extends from the interior of the tooth down into the root of the tooth and jaw.  Pulp is living tissue and can die from infection or disease.  When diseased pulp festers inside the tooth, swelling and pain can result.   Untreated, the tooth can become infected and require extraction.  The infection can also spread and injure the bones in the jaw and face as well as other parts of your body.  Root canal therapy removes diseased pulp from the infected tooth.  After the diseased pulp is removed, the interior of the tooth is cleaned and the tooth is sealed.  In the final step the dentist places a crown over the tooth to protect it and make it stronger.
The dentists at Day & Night Dental are experts in root canal therapy.
What is a dental crown?
A dental crown covers a tooth that has been damaged by decay, wear or an accident.  The crown which is usually made out of gold or porcelain restores the tooth to its normal size and shape, protecting it from further damage.  Crowns are also used to anchor dental bridges, partial dentures and other dental appliances.  Dental crowns can play a key role in restoring the health, beauty and functionality of your smile.
What are Dentures, how do I know if I need them?
Dentures are replacements for missing teeth.  They can restore your beautiful smile and allow you to eat and speak as if you had never lost your teeth.  They can also help support important facial muscles and prevent your face from looking prematurely aged and shrunken.  If you are missing teeth, your remaining teeth are troubling you, you have trouble eating, are self conscious about your incomplete smile, you may be a candidate for dentures.
Day & Night Family Dental offers three types of dentures:  conventional full, immediate full and partial.  The friendly dentists at Day & Night Family Dental will work with you to determine which type of denture is right for you.
Conventional Full Denture – Full means the denture is designed to replace all your teeth.  Conventional means that any remaining teeth you may have are pulled prior to fitting the denture to your mouth.   This allows your gum line to go back to normal prior to the installation and fitting of the denture and helps to ensure a more accurate and comfortable initial fit but also requires you to be without teeth for a few months as your jaw and gums go through the healing process.
Immediate Full Denture – Full means this type of denture is designed to replace all your teeth.  Immediate means the denture is immediately fitted after your remaining natural teeth are removed.  You immediately have a full set of teeth but over time this denture may lose its fit and comfort.  As your gums and jaw heals, it usually changes shape, requiring additional fitting sessions and modification to your denture until your mouth is fully healed. Immediate Full Dentures are a viable option for those who need dentures but do not want to spend time without teeth.
Partial Dentures – Partial Dentures can replace sections of missing teeth.  Partial dentures rest on a metal framework that attaches to your remaining natural teeth for security and support.  Partial Dentures are a good treatment option for those who are missing a few teeth but still retain a number of their natural teeth.
Does Day & Night Family Dental accept infants and children as patients?
Yes Day & Night Family Dental accepts infant and children as patients.  Day & Night Family Dental's Fayetteville based dentist and hygienists have experience treating patients of all ages.  Day & Night Family Dental recommends taking infants for their first dental exam prior to their first birthday. Your child's teeth need regular cleaning and these cleanings can be augmented with fluoride treatments and sealants as preventative measures.
What locations do you serve?
Day & Night Family Dental serves Fayetteville North Carolina and Cumberland County North Carolina and all areas within a 1 hour drive of Fayetteville North Carolina.  The Day & Night Family Dental service area includes Cumberland County North Carolina, Hoke County North Carolina, Scotland County North Carolina, Robeson County North Carolina, Sampson County North Carolina, Johnston County North Carolina and Harnett County North Carolina.  The Day & Night Family Dental service area includes the following North Carolina towns, cities and communities:
Cumberland County North Carolina; Including:
Fayetteville, North Carolina
Fort Bragg, North Carolina
Pope AFB, North Carolina
Eastover, North Carolina
Hope Mills, North Carolina
Spring Lake, North Carolina
Falcon, North Carolina
Godwin, North Carolina
Linden, North Carolina
Stedman, North Carolina
Vander, North Carolina
Wade, North Carolina
Haymont, North Carolina
Lakeside, North Carolina
Owens, North Carolina
Hoke County North Carolina; Including:
Ashley Heights, North Carolina
Bowmore, North Carolina
Dundarrach, North Carolina
Five Points, North Carolina
Raeford, North Carolina
Rockfish, North Carolina
Silver City, North Carolina
Robeson County North Carolina; Including:
Lumberton, North Carolina
East Lumberton, North Carolina
Barker Ten Mile, North Carolina
Elrod, North Carolina
Fairmont, North Carolina
Lumber Bridge, North Carolina
Marrietta, North Carolina
Maxton, North Carolina
McDonald, North Carolina
Orrum, North Carolina
Parkton, North Carolina
Pembroke, North Carolina
Proctorville, North Carolina
Prospect, North Carolina
Raemon, North Carolina
Raynham, North Carolina
Red Springs, North Carolina
Rennert, North Carolina
Rex, North Carolina
Rowland, North Carolina
Shannon, North Carolina
St. Pauls, North Carolina
Wakulla, North Carolina
Sampson County North Carolina; Including:
Autryville, North Carolina
Bonnetsville, North Carolina
Clinton, North Carolina
Delway, North Carolina
Garland, North Carolina
Harrels, North Carolina
Ingold, North Carolina
Ivanhoe, North Carolina
Keener, North Carolina
Newton Grove, North Carolina
Plain View, North Carolina
Roseboro, North Carolina
Salemburg, North Carolina
Spiveys Corner, North Carolina
Turkey, North Carolina
Vann Crossroads, North Carolina
Scotland County North Carolina; Including:
Laurinburg, North Carolina
East Laurinburg, North Carolina
Gibson, North Carolina
Wagram, North Carolina
Crumptown, North Carolina
Laurel Hill, North Carolina
Old Hundred, North Carolina
Harnett County North Carolina; Including:
Angier, North Carolina
Buies Creek, North Carolina
Coats, North Carolina
Dunn, North Carolina
Erwin, North Carolina
Lillington, North Carolina
Bunnlevel, North Carolina
Mamers, North Carolina
Johnston County North Carolina; Including:
Benson, North Carolina
Archer Lodge, North Carolina
Clayton, North Carolina
Four Oaks, North Carolina
Kenly, North Carolina
Micro, North Carolina
Pine Level, North Carolina
Princeton, North Carolina
Selma, North Carolina
Smithfield, North Carolina
Wilson Mills, North Carolina
West Smithfield, North Carolina